The Master
A heavy-drinking loner finds some semblance of a family when he stumbles onto the ship of Lancaster Dodd, the charismatic leader of a new "religion."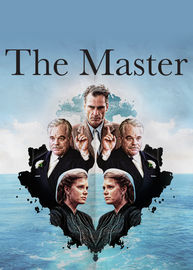 Summary
Freddie Quell (Joaquin Phoenix) is a troubled, boozy drifter struggling with the trauma of World War II and whatever inner demons ruled his life before that. On a fateful night in 1950, Freddie boards a passing boat and meets Lancaster Dodd (Philip Seymour Hoffman), the charismatic leader of a religious movement called the Cause. Freddie tries hard to adhere to Dodd's weird teachings and forms a close bond with his mentor, even as other members of Dodd's inner circle see him as a threat.
Details
Director
Paul Thomas Anderson
Cast
Joaquin Phoenix
Philip Seymour Hoffman
Amy Adams
Laura Dern
Ambyr Childers
Rami Malek
Jesse Plemons
Kevin J. O'Connor
Christopher Evan Welch
Madisen Beaty
Genres
Dramas, Independent Movies, Independent Dramas, 20th Century Period Pieces
Review
In the end it may not have the emotional uplift the Academy or a popular mainstream audience craves, but make no mistake, this is an enthralling drama about a peculiarly American restlessness, and the striving for insight and grace.
Share