Beware of Mr. Baker
Legendary and indestructible rock drummer Ginger Baker is the focus of this documentary, which recaps his turbulent history and many influences.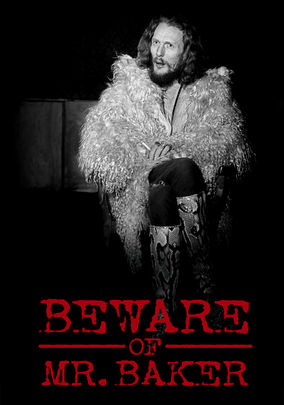 Summary
At home with rock 'n' roll monster Ginger Baker, Cream's legendary scarlet-maned, hell-raising drummer. This no-holds-barred, sad, and hilarious portrait of the man referred to as rock's first great drummer (and perhaps still its best) lets him tell his own story, intercut with footage of his continent-hopping life, from London to L.A., Nigeria, Italy, South Africa, and (way) beyond. Baker may have broken the mold musically, but his violent, dyspeptic mood swings, fueled by a multi-decade heroin addiction, went a long way to making him persona non grata even among the music greats who still revere his work. Eric Clapton, Johnny Rotten, Charlie Watts, and Lars Ulrich, Baker's 4 wives, and 3 grown children all have something to say about him: "He's a force of nature," "he's the greatest drummer any of us had ever heard," "he's mad," and "he's fairly consistently horrible" are just a few of them.
Details
Cast
Ginger Baker
Eric Clapton
Steve Winwood
Carlos Santana
Jack Bruce
Genres
Music & Concert Documentaries, Music, Documentaries, Rock & Pop Concerts, Biographical Documentaries, Rockumentaries
Review
It's refreshing to watch a music doc, especially one with such intimate access to its subject, in which barely anyone is unreservedly polite about the person in question.
Share